When Eaton, a power management company, decided to redesign their trade show portables, they were looking for a cost-effective solution that would reach a wide range of market segments. That solution presented a challenge in not only communicating effectively to each audience, but in narrowing a product line that's specific to each market. Eaton partnered with Zoltun to bring this project to life.
For each market segment, floor-standing and tabletop structures were created. This gave Eaton options when space constraints or venue limitations were presented. In addition, each floor-standing model contained one interchangeable product panel. This gave Eaton even more options. All floor-standing models could present different sets of product lines. Other panels combined a dynamic industry photo and typography that emphasized Eaton's value points specific to each industry. Everything tied in nicely with the brand identity.
The team at Zoltun completed design and production on over 30 portable displays. Additional interchangeable product panels were also produced. After a concept was finalized, a working template was created. This was used to carry through a consistent look between all displays. Also, using ghosted typography over background industry photos proved to not always work so seamlessly. Image retouching and compositing played a major factor in adjusting these to work with the concept layout.
Zoltun also played a project management role. While working with Eaton's internal staff, appropriate image assets were gathered and organized to showcase Eaton's various product lines. In the end, a new series of bold, appealing displays now factor into Eaton's sales and growth. They'll continue to be used at regional trade shows and conferences for the foreseeable future.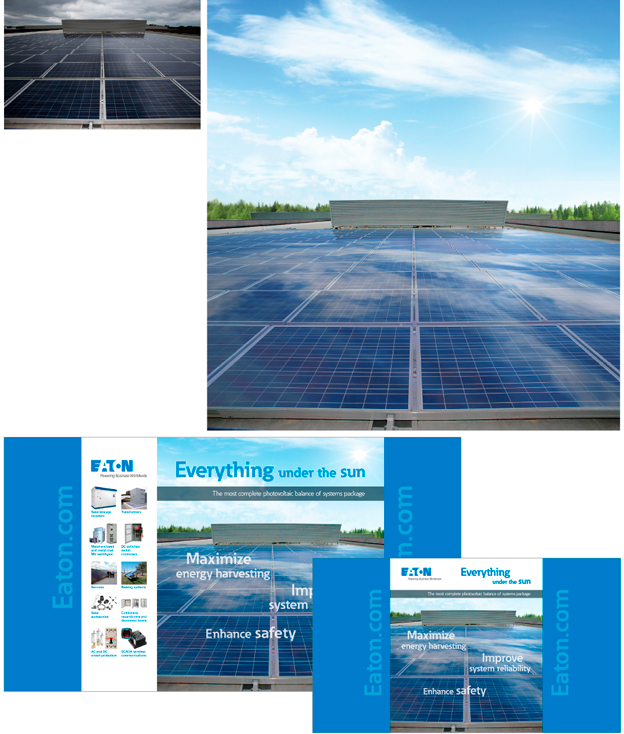 Photo retouching, color correction and compositing were required to produce the final solar displays shown here.
Written by John Michalski