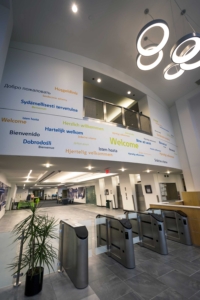 Zoltun played a vital role in the 2017 Eaton Cherrington facility's building renaissance earlier this year. Zoltun's senior art director John Michalski, along with account executive Angel Rose, worked closely with Eaton's marketing team and vendors to meet stringent guidelines and deadlines.
The project included a multilingual welcome wall, an inspirational quotation wall, a resizing of corporate lenticulars for various entry walls, and hallway posters that highlight the varied sectors of the Eaton electrical product line.
This energized revitalization helps bridge the ambience of the Cleveland office with the Pittsburgh Cherrington office, and motivates all who pass through it.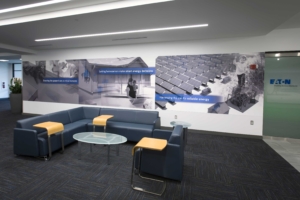 Written by Theresa Poprocky