Rhonda Perko is just one of those people who, after a conversation with her, you think, "Wow. Jealous. I want to meet David Bowie…"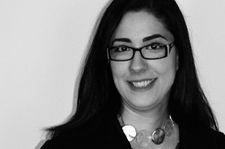 Q. The moment someone walks into your office, they have to know that you're a "creative." Do you create any kind of art?
A. I studied Fine Arts at Slippery Rock University — for a very short time. I wanted to be a fine artist, but I discovered that SRU was not for me and decided to walk down the visual communications path at the Art Institute of Pittsburgh.
Q. Can we see some of your paintings?
A. Ha ha. No. My husband always says that, before I die, I should have a gallery showing of all of my unfinished pieces of work.
Q. You should! Who's your favorite artist?
A. Andy Warhol, but not because of his art… I think he was a brilliant marketing genius. Actual favorite artists of mine are Mark Ryden and Hieronymus Bosch. Bosch's work is very similar to that of Salvador Dali.
Q. You've got some cool stuff in your office. Not one but two Pee Wee Herman figures and Cherry Chair. Tell me about those.
A.  My husband, Wyatt, and I have a massive collection of eclectic stuff. We've been collectors for about 20 years. We have a huge CD collection — around 6,000 of 'em. My husband collects classic upright arcade machines (Space Invaders, Asteroids, Centipede…) and pinball machines.
Q. That's pretty awesome. Do you play them?
A. I'll play pinball every once in awhile. What I love to do is play video games. I've been playing video games since Atari. Survival Horror is what I love the most! And I'm actually really good for being a girl.
Q.  You have an impressive resume — you created and owned your own magazine?
A. Wyatt had the idea that he wanted to publish a magazine. Together, we owned, created, conceptualized, designed, photographed, edited, interviewed, etcetera… everything in Fright X magazine. We started the magazine in Philadelphia, and then moved to Lancaster. It was distributed nationally and internationally. Fright X was an underground entertainment magazine ahead of its time.
The title, Fright X, actually came from a recorded interview of Salvador Dali in Andy Warhol's Interview magazine. Dali was talking about his controversial painting, "Fried Eggs on a Plate without the Plate," and because of Dali's Spanish accent, his words came out "fright ex" instead of "fried eggs."
The interviewer had to stop Dali and ask him to repeat himself. Hence, the christening of Fright X magazine.
We released 13 issues, and met a lot of crazy, interesting people while doing it. Bruce Campbell, John Waters, XTC… the band They Might Be Giants came to our house in Lancaster.
Q. It's pretty easy to see where your daughter, Chloè, gets her creativity and imagination.
Everyone at Zoltun's Pittsburgh office loves Chloè.
A. She's definitely a fantastic individual and an amazing little girl. (And I'm not just saying that because she is my daughter.) I am extremely proud of her. She is a perfect mix of my husband and me!
Theresa Poprocky (Creative Director):  "Aside from the many drawings Chloè has done for me, she has enrolled a few of us in the 'Animal of the Month' club! We have membership cards and little rubber animals… and there's a poster on my door, with interchangeable placards and posters to change up each month."
Patty Szalla (Office Manager): "Chloè is always my very willing helper when she is here. She has helped fold and put away all those Zoltun tee shirts — she is now ready to work at Old Navy! — and has also helped file all the closed project files. Chloè always draws very artistic pictures. I have one hanging behind my desk right now of a giraffe. She is so personable, and cute to boot."