There's a lot of stuff on the Internet. Take a simple search on Google: you type one thing in the search bar, and you receive hits for thousands or even millions of unrelated-yet-totally-distracting links. And instead of moving on and continuing your productive venture, you spend the next 25 minutes clicking through links to this or that, following threads through blogs about food to sites that promote crazy ideas, and… well, we all know how it goes.
Here's the thing: You don't want your website to get lost among all that other junk. You want your company's site to reach as many viewers and potential customers as possible, and to immediately capture the interest of those visitors. You need your site to have a presence on the Internet. The question is, how will your website stand out from all the others?
The answer: by not differentiating at all… in terms of technical procedure, that is. Huge corporations don't appear on your search engine just because they're huge. They've got people to make sure that their websites are search engine optimized, which simply means that a search engine like Google, Bing, or Yahoo! can find them faster and easier.
Search engine optimization, or SEO, is the process of improving the visibility of a website using content, keyword density, link building, and a little bit of "strategery."
Keywords are obviously important; they're the little soldiers the viewer sees when first searching for a topic.
"Simply put, keyword density is the percentage of times a keyword or phrase appears on a web page compared to the total number of words on the page," says Sam Menchyk, our resident Web Director and all-around knowledge tree.
"In the context of search en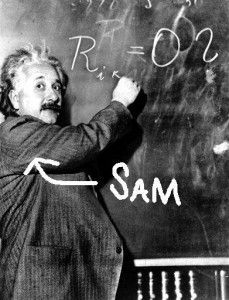 gine optimization, keyword density can be used as a factor in determining whether a web page is relevant to a particular keyword or phrase. Each keyword that you are targeting should account for 1 to 3 percent of the words on the page. Using a keyword more than this could be considered search spam. So, for example, if your page has 700 words, and your keyword target is 'widget,' you should have 21 instances or derivatives of the word 'widget' written into your page content," says the Tree of Knowledge.
Avoiding industry jargon, create a broad range of keywords that make sense for your content and that will best fit your company, but don't overuse those words – you'll end up with content that reads kind of like watching someone giving a speech and counting the times they say, "Um." Plus, search engines could flag your content as potential abuse and not give you a high rating, which defeats the whole purpose, right?
Content is still the top concern for any website, as it should be. Taking the time to write good, solid content will add an exclamation point to your credibility – extra points if you get guest experts to write for your blog. You will gain the trust of your reader, who will then love it so much that they will share it on their own blogs, whose readers will in turn share it with others, et cetera. Aha! Link building.
To emphasize relevance, link your website to another complementary website.
"Syndicate your RSS feed, not your article content. Instead of publishing your duplicate content everywhere, keep the content on your site and ping services like technorati, Twitter, Facebook, and anywhere you can publish your site's feed. Get visitors on your site and then give them an opportunity to bookmark or share your content via social media."  (www.seopractices.com)
Let us know what project you're working on.  Zoltun Design can help your website get more action and optimize the heck out of it. Call Jill at 412.488.2623.