Zombies aren't real. You know that. I know that. That doesn't mean that I can't live the nightmare for about an hour… or possibly much longer. There's always a chance that brain-hungry, virus-spreading, walking dead people will take over the planet. I'm not content in betting against it.
So my preparation begins with Run for Your Lives, a zombie-infested 5K obstacle course and mud-run. This post-apocalyptic traveling event is held in various parts of the country. Luckily, one of those parts is Switchback BMX Raceway in the land of mullet cuts and farm shows… that being Butler County, Pennsylvania. I can't think of a better thing to do on Labor Day weekend than to run from the legions of flesh-eating undead.
Of course, I'm not up against real zombies… just regular people dressed as zombies. And, no, they're not gonna try to bite my arm off. They're just gonna try to take the three flags I have strapped around my waist. The flags symbolize lifelines, and if I make it to the finish line with at least one left, I'm still considered to be "alive." So it's not exactly living out my horror movie fantasy, but who cares? Onward to Butler!
An event as novel as this one doesn't call out to just your typical dedicated runner. Participants include any adult who wants to be a kid again. Though a majority may be twenty-somethings, there are plenty of elders looking to play this contemporary version of Cops and Robbers. It's absolutely thrilling to see both runners and zombies as excited as I am to live out our own versions of a George Romero movie.
After my wait in the parking lot, a shuttle ride on a school bus, a waiver sign-off, and a packet pick-up, I meet up with my friend and fellow runner Jen. Luckily, Run for Your Lives organizers provide a tent in which we can check in all of our gear. Crawling through the mud would be less fun with a heavy backpack weighing us down. So, one last stop to lighten our luggage, and we head to the start line.
Along with our fellow runners, we line up in a giant steel warehouse… one that obscures our vision of both the start line and the upcoming terrain. Soon after our line starts moving, we venture through a tunnel labeled "Appetizers" onto a dirt trail and we're finally in the game. Amped as we all are to throw caution to the wind and kick the race into high gear, it isn't a smooth start. The first kilometer is completely uphill. The first 50 feet alone includes an elevation requiring all extremities to climb it. And with no zombies in sight yet, most of us decide to conserve energy by simply walking.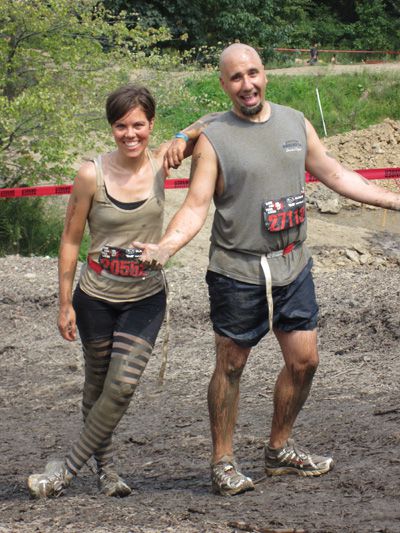 Before we know it, we reach a plateau and finally have a chance to catch our collective breaths. Eventually I hear someone yell "WALKERS!" and another challenge begins. Jen and I had discussed a strategy: We'll use other victims to our advantage. Whenever the soulless attempt to grab another runner's flag, we'll make our move to avoid them. This seems to work during the first wave of undead. I'm able to weave past them left and right. All is going well, giving me a sense that the rest will be gravy. A false sense, as it turns out. Because…
[twist]
An awkward step turns my right ankle, causing a sprain. Maybe throwing caution to the wind isn't such a great idea. I still have one good ankle and pure adrenaline left. However, sprinting at full speed is no longer an option. As discouraged as I am, my goal to finish alive is still in play. I've made it this far with all three flags. Determined to limp through to the end, I continue on.
Amazingly, I hop through another flesh-eating wave unscathed. Then another. I'm not without any help, though. Jen allows me to use her shoulder as a crutch when we encounter hills. Soon, we both make it to a clearing where the real fun begins… a short waterslide into a muddy puddle. This is followed by a giant waterslide into a bigger (and muddier) morass. Reverting to my prior strategy, when I had two good ankles, I ride both with reckless abandon and have an absolute blast doing so.
Through countless mud pits and even more zombies, I find myself down to one flag. Jen is now without any of hers and has decided to play defense for mine. She distracts the undead while I go ahead and hop through. This works on some occasions. On most occasions, the zombies are just sympathetic to my injury. During a real apocalypse, I'd be easy prey for sure. For a fake one, it turns out that zombies show sincere empathy. And with the finish line near, a new camaraderie is taking place. Other flagless runners are playing defense for my survival as well. Their actions are surprisingly heartening and much appreciated.
In what proves to be my demise, I'm lured by all this goodwill into letting my guard down. All it takes is one distraction. Mine happens to be a sprinting nun. Watching zombies chase a runner sporting a black gown and habit is the funniest thing I'll witness all day. Jen and I can't stop laughing. Just then, a sneaky zombie dressed in bloody hospital scrubs snatches my remaining lifeline and the dream to finish alive is dead. The goal now is to just finish.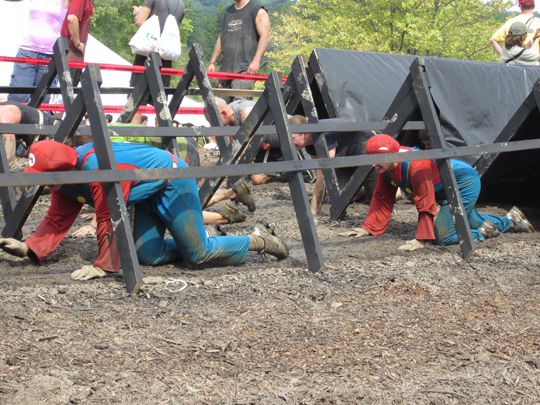 A couple obstacles remain when I see my friend Schief, a volunteer, watching the race as a spectator. Seeing him dressed as Shaun from Shaun of the Dead puts a short-lived smile on my face… My hands and knees are in pain as I crawl through small tunnels constructed over mud and mulch. Making an army crawl under an electric fence proves to be a challenge as well [OUCH!]. But it's all worthwhile. I cross that finish line, grab my medal, and hose off. All that's left is to have a beer and play a friendly game of cornhole.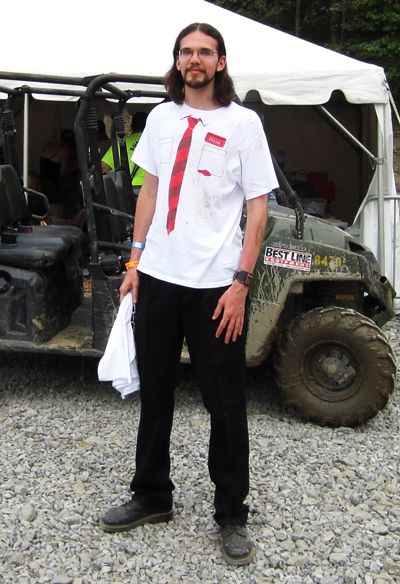 So given my injury, is it worth doing again? Without a doubt! I'll do it every year as long as I can still walk. Thank you, volunteers! Thank you, fellow runners! Thank you, zombies! Limping back to the shuttle, I can't leave without snapping a few pictures. Some of the more creatively costumed need to be captured on my iPhone.
This is an unforgettable experience. Zombies make everything more horrific… and that's what so many of us are looking for in entertainment!