Rick and I have been bonded through snowboarding since 1997. So, "cool" doesn't even begin to describe how awesome it was to learn that boards for our favorite winter pastime are being manufactured right in our own backyard at Gilson, a snowboard startup in Winfield, Pennsylvania.
For over 25 years, Zoltun Design has supported manufacturing-based clients. We work with them like peanut butter works with jelly. So imagine our excitement at discovering Gilson.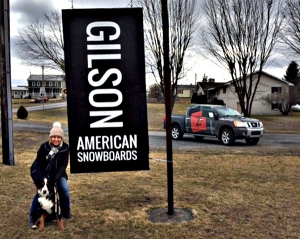 Faster than a high-speed chairlift, we reached out, and then put on our "Tommy Boy" hats to drive east to tour the Gilson shop in central PA.
Hannah Bischoff and Nick Gilson were kind enough to open their doors to take Rick and me through their 5,000-square-foot facility, while sharing tidbits from their humble business startup story. In their showroom, we saw the progression of board designs beginning with an impressive one crafted by Nick when he was only in 8th grade. These early boards featured a design concept called the Pow-Channel. This innovation has undergone many redesigns over the years, but together with Gilson's soft edge design, it is still a distinguishing feature in their line of boards today.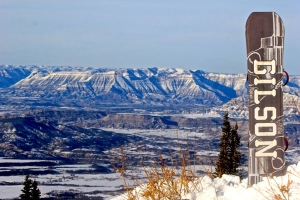 We walked the board manufacturing process starting at a raw stack of Pennsylvania poplar and ending with beautifully handcrafted, artistic designs ready to ship worldwide. We were amazed to learn that the boards they were finishing were on their way to Australia and Korea. In addition, Gilson has sent boards to the U.S. Olympic team. What a thrill it would be to see a Gilson board at a venue in the 2018 Winter Olympics in South Korea.
It was a great tour that fueled Team Zoltun's passion for design, snowboarding, entrepreneurship, and local manufacturers. Hannah and Nick could not have been nicer. They are truly dedicated to crafting revolutionary snowboards right here in Pennsylvania! The skill and craftsmanship put into each specially designed board distinguishes Gilson from other board companies. From Gilson's humble beginnings in a barn to their expansive current manufacturing process, we know their future is bright and expect this young manufacturer to grow leaps and bounds over the next five years. We are reassured by Gilson's success that the entrepreneurial spirit is thriving in Pennsylvania. Entrepreneurs rock!
Want to know more about Gilson or create a custom snowboard? Check out their website at www.gilsonboards.com or follow them on Facebook.
Written by Jane Zoltun