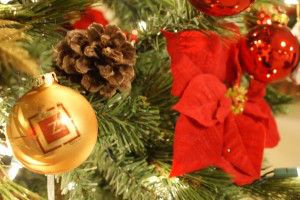 The holiday season is usually the most hectic time of the year for everyone, and for Zoltun Design, it's no different.
Experts in print solutions, catalog design, translation services, Web content management systems and Web design; Zoltun prides itself on responsive, efficient, and creatively superior design solutions.
Zoltun's headquarters at 10 Bedford Square has been constantly buzzing with top clients' projects and new project wins, the majority of which have deadlines before the end of the year.
"Our main goal is to always stay true to our company values," says Rick Zoltun, president. "Especially in hectic times, it's important that we continue to provide the best customer service possible and continue to be quick and responsive with our clients' requests."
And with around 30 employees, the company is taking a look at how the extra workload will be managed.  Five freelance artists were hired to help the design and proofreading teams and to make the allocation of work easier.
"We think it's important that our employees maintain a healthy balance between their professional lives and their family lives, and with the holidays coming up, we understand that their personal time needs to be respected," says vice president Keith Rigby.
While Zoltun still maintains core office hours, adaptability is the name of the game. Employees enjoy flexible hours including paid overtime, the opportunity to work from home or to take work home if necessary, and a full week off during the holidays.
"The breathing room is very much appreciated," says Jenna Thomas, a graphic designer. "With family life and commitments during the holiday season, it's a relief to know that we have such flexibility at work."
The positive attitude at Zoltun is contagious, and clients recognize it as well.
"Working with Zoltun is great," says Tony Aubrey of Philips Respironics. Their talented creative team bends over backwards to make sure that my trade show graphics, marketing materials, and displays look good, and get to where it all needs to be on time. They're so easy to work with, their estimates are always fair, and they have never missed a deadline yet."
Zoltun's unique array of talent and skill allows them to connect with clients on multiple levels, and gives them confidence in knowing that their company's message and image will retain continuity. This assurance, along with Zoltun's innovative and cost-effective design solutions, builds client loyalty and ensures customer satisfaction.
Creative design with an impact is not just about artistic vision: It's also about listening, communicating, and building strong and rewarding relationships.
To find out what Zoltun can do for your company, contact Jill Yahnite at (412) 488-2623 or visit www.zoltun.com.