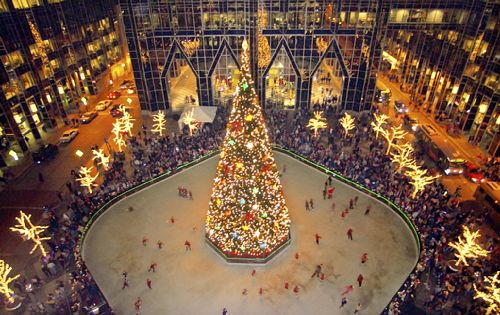 The holidays are great, aren't they? Family, friends, good food, good times.
Here are some fun and wintery facts for you to bring up at dinner, instead of listening to Great Aunt Mabel's stories that you've heard already. Twelve times in the last hour.
•    Ah, mistletoe, the kissing plant. You stand under it and hope that your dreamy gaze will be met with a smooch. But the translation of the word isn't really all that dreamy – a few centuries back, it was observed that mistletoe tended to take root where birds had left their droppings. "Mistal" is an Anglo-Saxon word that means "dung," and "tan" means "twig." So… mistletoe actually just means "dung on a twig." Cute, right?
•    There are about 15,000 Christmas tree growers in the United States, and more than 100,000 people are employed in the industry, full- or part-time.
•    For every live Christmas tree that is harvested, two to three seedlings are planted in its place.
•    In Hanukkah tradition, candles are added to the menorah from right to left, but are only lit from left to right.
•    You can also spell it "Chanukah," "Chanukkah," and "Hanukah."
•    George Balanchine's world-famous ballet, "The Nutcracker," a holiday staple, was first performed in December 1892 at the Mariinsky Theatre in St. Petersburg, Russia. Tchaikovsky, who wrote the musical score, used the newly invented celesta to make the music for the Sugarplum Fairy sound like "the sprays of a fountain."
•    To ring in the New Year, every culture has its own epicurean tradition. The Spanish eat twelve grapes at midnight – one for each stroke of the clock and each month in the year. The grapes are supposedly indicative of what's to come, too: for example, if the third grape is a little sour, March might be a challenging month.
•   In the United States, pork is a common New Year's Day food because of its fat content – it's supposed to symbolize wealth and prosperity.
•    There are some foods to avoid if you want to get lucky in '11. For one, there's lobster, because it moves backward and therefore could possibly lead to setbacks. Any winged fowl isn't a good idea either, because, as the story goes, good luck could fly away.
For more lucky New Year foods, visit epicurious.com.