When life gives you basil.
So, what the heck do you do when your basil plant keeps doubling or tripling in size practically overnight… every single night? Yikes!!!
Well, I've made multiple containers of pesto for the freezer, and I've given some to neighbors, friends, and family. But now they're all starting to close their doors when they see me coming (okay, that's a bit of an exaggeration… it may be happening for various other reasons). But I digress.
Anyway, there's a quick, yummy one-bowl meal you can make that doesn't involve turning on the oven or microwave, and only takes minutes to throw together. It's so yummy you'll lick the bowl once you've eaten the last bite.
Panzanella salad.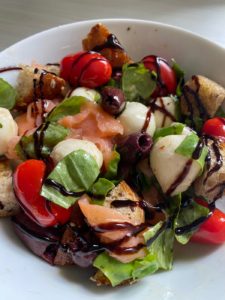 The Italian word panzanella is derived from "pane" (bread) and "zanella" (soup bowl). It's basically a chopped salad that represents the colors of the Italian flag… red, white, and green. My mother calls it peasant food.
All you need is a bowl (of course), a handful of torn crusty bread, mozzarella balls, grape tomatoes, your favorite olives, dried oregano, a pinch of crushed red pepper flakes, salt and pepper, and a big bunch of basil leaves (remember, they are doubling and tripling as I write this).
Everything gets tossed together in a bowl and gets a generous drizzle of olive oil. Then you top it all off with a swirl of sweet balsamic glaze.
My latest experiment (today's lunch) was adding shredded smoked salmon. Oh my… that took the salad to the next level… delizioso!!!
It kinda tastes as if pizza and salad had a baby. It's cool, it's refreshing, and it's great for lunch or dinner (or breakfast, if you are unorthodox about what you eat, and when… like me).
Incidentally… you can add a tablespoon of pesto to the salad for an accelerated taste sensation. I'm salivating just thinking about it.
Buon appetito.
Written by Theresa Poprocky