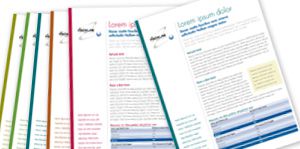 Fischione Instruments has a strong presence in the scientific community, and their brand needed to be able to convey and promote that strength. Together, Zoltun and Fischione are working to rebuild and breathe fresh life into the brand.
Zoltun started working with Fischione Instruments to create trade show panels, and then expanded the project to renovating the brand. Zoltun and Fischione are now working together to rebuild the company's corporate identity from the ground up.
Selecting the right color palette is immensely important in the development of a brand. We built a corporate color palette and selected fonts that will give the Fischione brand consistency.
The color range all works as a unit: each secondary swatch is chosen to work well with the primary swatches in almost any application. The accent color is used as a catalyst at various tints. The fonts are reflective of the client's industry, plus they work well when used together in an application.
Zoltun also created a standard presentation design, using the primary colors and textures relative to Fischione's identity. Learn more about Fischione Instruments in the Client Profile section of this newsletter.